Emotional Intelligence Life Coaching
Your heart is free... have the courage to follow it.
Learn how to recognize, control and express your emotions as well as being able to notice the emotions of other people around you, through the process of Emotional Intelligence.
May I ask a question? Have you ever felt the need to hide or suppress your emotions because you did not want to fall prey to feeling sad, anxious, angry, depressed, isolated, fearful or insecure? You might wonder if your emotions are harmful and should be ignored. Or maybe you might even think you are too emotional and often resist showing any true feelings at all.
If the answer is yes, you are not alone! I have endured some of the same feelings at different moments in my life but gaining a better understanding of my emotions has allowed me to see a major change in my mindset. I am now more appreciative of my self worth, I am happy to see every new day and I am learning to make better choices in my personal and social relationships.
For you, the good news is, through my Restorative Renewal Programs, you can also overcome these feelings and achieve positive changes in your life by entering the Journey of understanding Emotional Intelligence.
To help you get started, take a moment to refocus and recharge with this Free Introductory Guide a 4-Day Challenge of Emotional Renewal… Enter your name and email below to receive a free copy.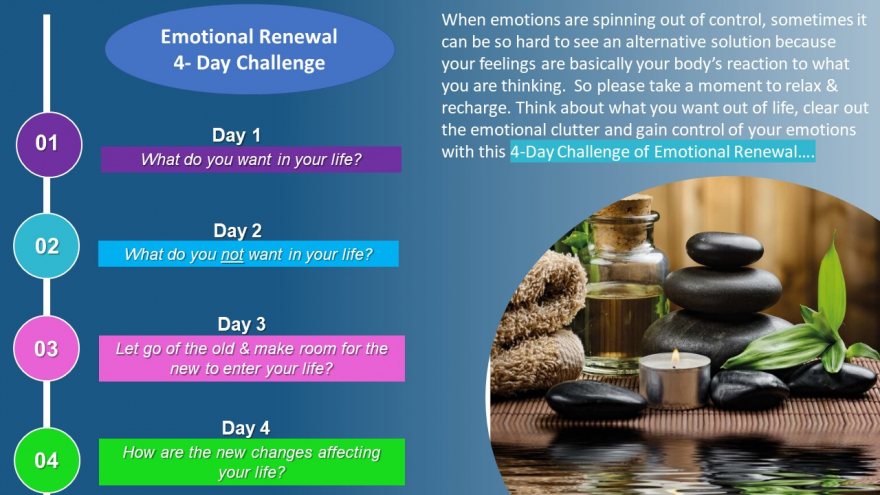 Want to explore whether we're meant to work with each other?
I offer a 30-minute virtual coaching session to discover what your current plan and challenges are and how my coaching can support you in achieving your goals and solving your challenges. It will give you a chance to sample my coaching style to determine if I am a good fit for your needs. Click the link below to book your 30-minute no-obligation complimentary session.
Schedule an Emotional Renewal Discovery Session